Acua Golf 2
a.k.a
Fox Sports Golf '99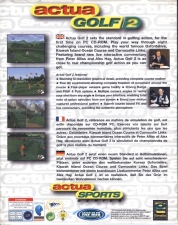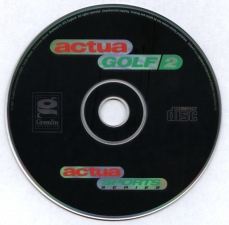 Серия Actua Golf от
Gremlin Interactive
является основным конкурентом серии PGA Tour Golf (PGA Tiger Woods) от компании
Electronic Arts
. И хотя творение от
Gremlin
не имеет лицензии от PGA (Professional Golf Association) это не мешает ей быть превосходной игрой. Отличительной особенностью игры является использование 3D движка, что позволяет реализовать потрясающие эффекты, будь то отражения в воде, покачивание деревьев на ветру, полупрозрачные эффекты, эффекты освещения и прочее. Отдельно хочется сказать спасибо разработчикам за возможность просмотра траектории полёта мяча с самых невероятных точек обзора, камер в игре представлено более чем достаточно. В
Actua Golf 2
на Ваш выбор игра на трёх реальных полях, плюс трёх вымышленных, в разных уголках планеты, итого 18 курсов для оттачивания Вашего мастерства игры в
гольф
. Режимов игры так же вполне достаточно, включая режим мультиплеера для 4-х игроков в различных вариациях, среди них: Practice Session, Strokeplay, Matchplay, Skins, Foursomes и Fourball. (
volgame
)
Actua Golf 2 sets the standard in golfing action for the first time on PC CD-ROM. Drive, pitch, chip and putt you way through eight challenging courses, including the famous Oxfordshire, Kiawah Island Ocean Course and Carnoustie Links. Featuring brand new live commentary form Peter Alliss and Alex Hay, Actua Golf 2 is as close to real championship golf action as you can get without getting the golf bag out.
Features:
- Stunning hi-resolution graphical detail, providing complete course realism. True 3D environment allowing complete freedom of movement around the course. Four- Player network game facility available.
- Driving and Pitch and Putt options.
- Multiple camera angles to replay your shot form any angle.
- Unique easy to use user interface enabling swift selection from one screen to another.
- Brand new motion capture professional PGA golfers.
- Superb course sound FX and live commentary, providing the authentic atmosphere.
Released: 1998
Platform: PC/Windows 95/98 + Win XP/7/8.1
Game Type: Sport/Golf
Developer: Gremlin Interactive
Publisher: Gremlin Graphics
Language: English
WinRar: 387/650 Mb
Actua Golf 2
| PSX Planet
Minimum Specifications:
Win 95
P75 processor
Supports mmx
16mb ram
Graphics card must support directx 5.0
2x cd-rom
87mb hard drive space
Recommended system requirements:
P120 processor
219mb hard drive space
Options:
Direct sound compatible sound cards
All direct 3d accelerators with dedicated support for: power vr and 3dfx chipset
Multiplayer - direct play support: modem (min 9600) 2player
Serial: (serial connection required) 2 player
LAN: (ipx,tcpip) 4 player
MEGA.CO.NZ
Образ игры
CLOUD.MAIL.RU
Инсталлятор для запуска на современных ОС Windows