Ace Combat: Distant Thunder (SCES-50410)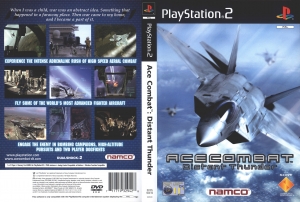 В основе сюжета этой игры положено столкновение гигантского метеорита с нашей планетой. В результате жизнь на земле превратилась в настоящий хаос. Часть людей, кому удалось запастись достаточным количеством продовольствия, расселились в разных странах с тем, чтобы пережить катастрофу, но те, кому не досталось снаряжения и продовольствия, конечно же мечтают отбить его, а потому совершенно естественно, что дело миром не закончится. Вам предстоит играть роль молодого пилота, родители которого погибли в этой ужасной войне, и он просто одержим жаждой мести, а потому уничтожает буквально каждый самолет, который встретит на своем пути, не выясняя, кто он и за кого. Так же, как и в предыдущих играх этой серии, Вам предстоит пройти 24 довольно сложные миссии, полетать на великолепно выполненных (до мельчайших деталей) потрясающих самолетах типа S-22 Raptor, Mirage 2000 и Rafale и т.п. Графика просто потрясающая, дух захватывает, когда смотрите на простирающуюся под Вами Землю, а самолеты противника пугающие и реалистичные. Вы смело можете покорять воздушные пространства, уничтожать встретившихся врагов, выполнять на самолете любые фигуры высшего пилотажа до тех пор, пока, конечно, топливо не закончится.

Strap yourself to the cockpit and prepare for supersonic excitement. The world is at war and your dog-fighting skills will be put to the test. It's time to experience the turn and burn action that only Ace Combat® 04 Shattered Skies can deliver, from the crushing G-forces, to the non-stop aerial sorties.
Genre
: Simulation > Flight > Modern Jet
Developer
: Namco
Publisher
: SCEE (08/02/02) (EU, AU)
Language
: English, French, German, Italian, Spanish
Format
: SONY PlayStation 2/DVD
7z
: 2.24 Gb
Ace Combat 04: Shattered Skies
| PSX Planet
YA.DISK