Plus Plum 2 (S30-00001) (NTSC-J)
Plus Plum 2 is a puzzle game by Takuyo. Released January 15, 2004. The original Plus Plum was released for the Sega Dreamcast in 1999. Plus Plum 2 Again was released for the PlayStation 2 and PSP in 2006. None of these games have been released outside Japan.
Xbox Live compatible Japanese puzzle game featuring anime-style characters. Players compete in the story mode or go head-to-head with others in the versus modes. The gameplay is similar to others like Puyo Puyo or Columns: match up three icons of the same color to clear them, but with the added catch that players don't change the order of icons, but their color. Your playing area is some sort of scale so not only do you have to worry about your icons hitting the top but also the other player doing well enough to push his half of the scales down and your half up. If that wasn't enough to worry about you also have to remember that your icons will change color once a combination has been preformed. Pulling off combos will conjure up special attacks, accompanied by on-screen character animations. The game is fully in Japanese, but completely playable and easy to understand.
Platform: XBox
Год выпуска: 15/01/2004
Жанр: Puzzle
Издательство: Takuyo
Регион игры: NTSC/J
Язык интерфейса игры: Japanese/English
Image: ISO
7zip: 140 Mb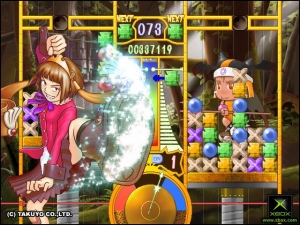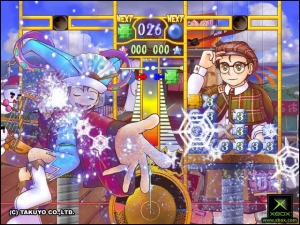 NAROD.DISK