Tomb Raider II
(v1.2)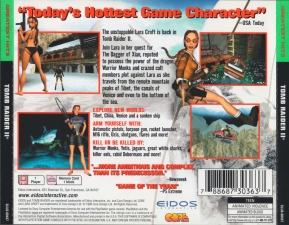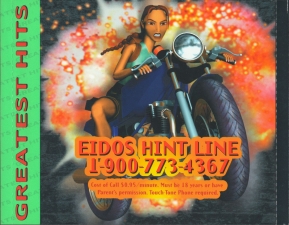 Год выпуска
: 1997
Жанр
: Action Adventure » Linear
Разработчик
: Core Design Ltd.
Издательство
: Eidos Interactive
Код диска
: SLUS-00437
Платформа
: PS
Регион
: NTSC
Количество CD
: 1
Мультиплеер
: нет
Язык интерфейса
: ENG
Описание
:
©Легенда гласит, что обладатель кинжала Ксиана получит великую Силу Дракона. Любительница приключений Лара Крофт, узнав об этом, не смогла усидеть на месте и отправляется в опасное путешествие в Китай, где ее уже поджидают конкуренты.
17 захватывающих уровней по всему миру. Огромное количество головоломок и ловушек, которые необходимо преодолеть по пути к сокровищу. И, конечно, враги, в которых можно пострелять из прихваченного с собой оружия.
Lara Croft is back in her biggest adventure yet! The Dagger of Xian is believed by Chinese religion to withhold unbelievable powers. Whoever wields the dagger and thrusts it into their heart will assume the powers of a legendary dragon. Players assume the role of Lara and must track down the dagger before it falls into the wrong hands. Unfortunately, the wrong hands are after the artifact; two cultist groups lust for the dagger's power.
Developed by Core Designs and published by Eidos, Tomb Raider II Starring Lara Croft is the sequel to the smash-hit Tomb Raider. As Lara, players will trek through 18 massive levels throughout the world. The journey will have you visiting the Great Wall of China, the streets of Spain, various shipwrecks, oilrigs, and the icy climate of Tibet.
Like the original, each level is represented by a plethora of puzzle solving elements and exploration. Puzzles come in the form of pushing blocks into locked positions, throwing switches, and uncovering the path to the next level. You'll need to have a keen sense of observation as helpful items are littered throughout the level. These include health and ammunition pickups, keys, levers, and bonus relic items.
Lara will also make good use of her acrobatic and weaponry skills. Among her new skills is the ability to wade in shallow water and climb up walls via ladders and ropes. Levels are crammed with a barrage of new baddies including dangerous sharks, electrifying eels, bats, tigers, and trigger-happy humans. Fortunately, the adventurer is prepared for battle; she'll utilize her patented dual pistols, an Uzi, an underwater harpoon rifle, shotguns, and an M-16 assault rifle.
Tomb Raider II Starring Lara Croft also features an all-new lighting effects engine complete with flickering flames and flares. Depending on the location, Lara will change into different outfits including a bomber jacket and a wetsuit.
Manufacturer's description:
The unstoppable Lara Croft is back in Tomb Raider II. Join Lara in her quest for The Dagger of Xian, reputed to possess the power of the dragon. Warrior Monks and crazed cult members plot against Lara as she travels from the remote mountain peaks of Tibet, the canals of Venice and even to the bottom of the se
Explore New Worlds:
Tibet, China, Venice and a sunken ship
Arm Yourself With:
Automatic pistols, harpoon gun, rocket launcher, M16 rifle, Uzis, shotguns, flares and more!
Features:
Third person perspective.
3D graphics
Cartoon graphics
Adventure theme.
Соответствует
редамп.орг
Доп инфо
:
Проверен на приставке PS2, идёт - идеально.
Все существующие версии этой игры
1.0
- первоначальная version, без дополнительных материалов.
1.1
- Playable Demos:
Gex 3: Deep Cover Gecko
Tomb Raider III: Adventures of Lara Croft
Videos:
Legacy of Kain: Soul Reaver
1.2
- Playable Demos:
Legacy of Kain: Soul Reaver
Tomb Raider III: Adventures of Lara Croft
1.3
- Includes promotional videos for Chicken Run and TimeSplitters
Согласно
редампу
CLOUD.MAIL.RU
Формат Образа
: *.BIN/*.CUE ~ 688
Mb
Формат Архива
: 7z ~ 410
Mb
(однобин)