Taxi 2 (SLES-03597)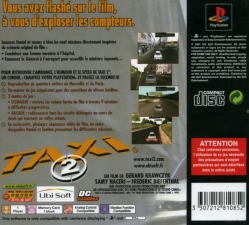 Taxi 2 was released on Playstation several years after the film that was about the Marseilles and Parisian tribulations of Daniel and Emilien, the two heroes of the full-length film.
The title takes some sequences of the film and transpose them in tests of driving the white taxi. Note already that there are only nine missions and only one playable vehicle. The levels follow the chronological order of the film. You will start in Marseilles where you will have to lead a pregnant woman to the hospital, then it will be necessary to lead Emilien to see Petra, arrive at the hour at Lily, to lead his father to the airport, the ninjas which captured the Japanese minister, etc
Features:
Third & First person perspectives
3D Graphics
Taxi & Humour themes.
Платформа: SONY PlayStation
Издатель: Ubisoft
Разработчик: DC Studios
Дата выхода: 15/07/2002
Жанр: Driving/Mission-Based
Язык: English, French
Формат образа: BIN/CUE
Размер архива: 213 Мб (WinRar)
Файловый сервис:
MEGA.NZ