NBA Showtime: NBA on NBC [SLUS-00948]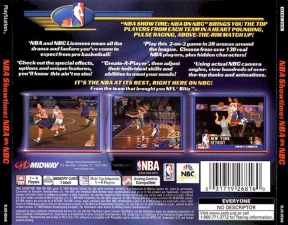 IT'S THE NBA AT ITS BEST, RIGHT HERE ON NBC! "NBA SHOWTIMEl NBA ON NBC" BRINGS YOU THE TOP PLAYERS FROM EACH TEAM IN A HEART POUNDING, PULSE RACING, ABOVE-THE-RIM MATCH UP!
IMAGE: CloneCD 4.2.0.2
LANGUAGE: ENGLISH
PUBLISHER: Midway Home Entertainment Inc.
DEVELOPER: Eurocom Entertainment Ltd.
STYLE: Sports - Basketball
RELEASE DATE: 12/1999
GAME SIZE: 139 MB
PLAYERS: 1 - 4
PERIPHERALS: Memory Card 1 block, Multi Tap Adaptable 1 - 4 Players, Analog Control Compatible
Also Available On: Arcade, Nintendo 64, Dreamcast
SERVER: NAROD.DISK