AFL '99 (SLES-01875)

AFL '99 единственная игра для первой PlayStation представляющая третий по количеству зрителей на трибунах вид спорта в мире. Средняя посещаемость матча АФЛ порядка 33,5 тысяч человек. AFL 99 содержит статистику 1998 года. В игре представлены шестнадать реальных команд Австралийской Футбольной Лиги. Геймплей аналогичен предыдущей серии игр, за исключением нескольких новых углов обзора камеры. Все матчи комментируют Брюс МакЭвени и Ли Мэттьюз.

Not really. The game is very playable, due to the fact that its AFL, but you would expect a lot more from EA Sports. There are few game options. If you got the same number of options for FIFA you would use it as a coaster. Aside from a few team and player changes, I wouldn't be surprised if EA told us that this was AFL '96 that never made its way out. The game promised so much more. There hadn't been a console AFL game since the NES. With EA sports running the show, we were supposed to have a game of FIFA quality. It promised motion captured marks, all the teams and stadiums.
Graphically, the game is terrible. There are a few camera options, but only one is even remotely playable. And when using this one, the players are small and very difficult to see. It is hard trying to distinguish between similar coloured teams too. If you are playing as North Melbourne, then expect to kick the ball to the umpires a few times. Some options to change the teams colours would have been nice. The game supposedly has the MCG, SCG, Subiaco and other grounds, but because of the camera angle you will never see the stands. The stadiums are about 30 metres back from the boundary too, which is somewhat odd. The controls are okay. You have directions, kick/change player, a tackle/jump/handball, sprint, bump, and kick loose ball. When in possession of the ball, you have up to eight arrows around you showing where different players are, and the arrows are short are long. A short arrow means if you hold that direction, and press the handball button, then it will go straight to the player. This is a good idea, considering that you can never see your team mates, and thus it is hard to try and judge where they are. The long arrow is for kicking the ball to a player, and when the arrows goes red, you can kick a goal from where you are. There is a radar, but it doesn't help much. Also, often the players are in groups of 2 or 3 of the same team, so when the opposition kicks it there you can get annoyed at the thing. However, being behind the other players seems to increase your chances of taking a mark for some odd reason. The game likes to show off its motion captured marks, but being as pixelated and small as the players are, you wont even notice when it happens.
The gameplay isn't too shabby, but at some times slow. When a mark is taken, the game stops, and an aimer comes on screen, then a power/accuracy bar. If you are playing 4 minute quarters, then you will see most of the time disappear waiting for the ball to be kicked. I never take marks, as you can just play on from when the mark isn't taken, it's a quicker and more fun game then. Like all sports games, it shines in multi player. Kicking a goal them being able to scream in your friends ear is much more fun then beating an ugly grey box. However, against the box in question, the difficulty is variable. It seems it is either very easy or very hard, and then when you get to the final series it is either very hard or extremely hard. You can go through the main season winning every game 100-nil, then get a huge shock come the semis, because you will be on the wrong end of these scores. The playing options are friendly, the old version Ansett cup (knock out version, there are 16 teams, then 8, then 4, then 2) Premiership season, or you can just jump to the start of the semi finals.
The sound isn't too great. Most of the sound effects are ugh, thod, thump and YEEEAAAAH!! The commentary is quite bad too. It is a rare occasion that the players name is said, it is usually 'He takes a great mark' or 'What a great run by the player'. The menus have terrible rock music too, so you want to get to the game as quickly as possible.
Overall, this game is quite a poor product, but is still playable if you have a interest in AFL. Its easily accessible too, and really its all we have, so it wins the AFL console game competition by default. Otherwise, just watch TV, or if you're an American going for the foreign sports, pick up a copy of Jonah Lomu Rugby.
Media Type (Платформа): SONY PlayStation
Release/Publisher (Дата издания/Издатель): Electronic Arts - 1999 - EU
Genre (Жанр): Sport/Australian Football
Language (Язык игры): English
Image (Формат образа диска): ISO/CUE
WinRar: ~140 Mb
AFL '99
| PSX Planet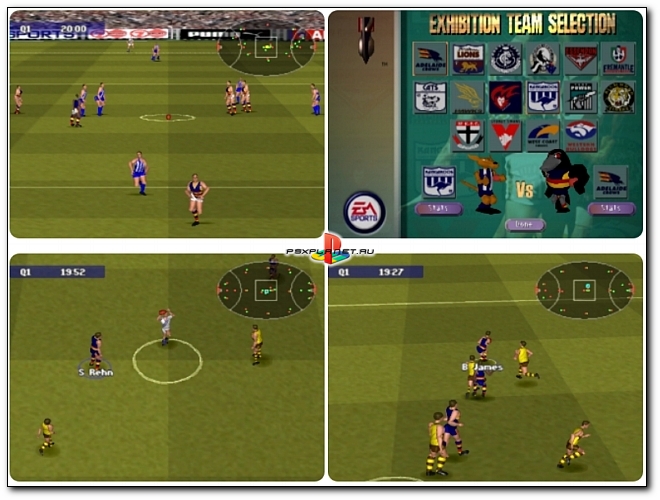 Host: NAROD.DISK