187: Ride or Die (SLUS-21116)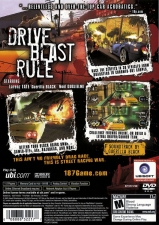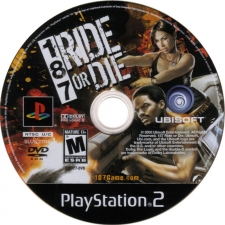 Игра 187 Ride Or Die посвящённая очень напряжённым и динамичным сражениям на бронированных и мощных автомобилях в духе серии игр Twisted Metal. Вы должны стать "Топ Догом", т.е "Самым Крутым", побеждая противников в гонках через различные этапы в Лос-Анджелесе и знаменитом районе "Южный Централ". Правил тут нет, ведь это мир преступников и игроки исполняют роль уличных хулиганов, стараются уничтожить всех на улицах, используя самые разнообразные, подчас, нечестные приёмы. В Вашем распоряжении порядка 30 автомобилей и набор оружия, включая пистолеты, автоматы и базуку. Для одного игрока есть три режима: Death Race, Cop Chase и Assassination, а многопользовательский режим возможен с использованием адаптера Network Adaptor, а также Интернета. Для двух игроков предусмотрен совместный режим, где первый игрок является водителем, а второй стрелком.

Fully strapped with firepower, you'll make a mad dash for power by racing against ruthless street crews, murdering your opponents, and building an empire of cash money. In Notorious: Die to Drive, you can choose from more than 30 different vehicles, ranging from vintage roadsters to modern models. Then equip yourself with more than 20 weapons, including pistols, machine guns, shotguns, and Molotov Cocktails. High-priced women, jewelry, and houses are just some of the rewards for the few who can survive this dangerous game.
Genre: Driving > Car Combat
Developer: Ubisoft
Publisher: Ubisoft - 23/08/2005 (U/C)
Language: English, French, Spanish
Format: SONY PlayStation 2/DVD
7z: 944 Mb
187: Ride or Die | PSX Planet